It's not just about going to church. It's about being church.
As a community, we acknowledge that each individual plays an important role in the ministry of the church. Whether we succeed or fail as a community is not up to one individual or one small group of people. It's about the power of God working through his church, the body of Christ.
We are a community of people constantly being challenged by God to find the places where our greatest passions meet the world's greatest needs, extending God's grace and mercy to all.
At St. Albans, we endeavour to engage and involve everyone, regardless of racial identity, ethnic origin, age, socioeconomic status, gender expression/identity, or sexual orientation. We value the voices and ministry (both lay and ordained) of women and non-binary people.
---
Church Staffers
The Rev. Canon Robert Heard
As the people of St. Albans undertake to find a new minister, the parish welcomes Robert Heard as our Interim Priest-in-Charge.
---
The Rev. Dr. Caroline (Caz) Ducros
Caroline (Caz) Ducros was born and raised in Montreal. She is the loving mother of two children, Molly and Tessa, loving partner of Heather, and proud owner of Ty, her Basenji. Her background is in Environmental Science and she has worked for the public service since 1999 at Fisheries and Oceans and at the Canadian Nuclear Commission, where she is currently an executive manager.
In 2008 Caz responded to a call to ordained ministry. In 2016, after seminary at the University of St Paul (BTh, MPTh), they were ordained a deacon where they have served at the Parishes of Church of the Ascension and Saint John the Evangelist in Ottawa. Since their ordination, Caz has also done prison ministry at the Ottawa Carleton Detention Centre and telephone ministry with Prison Fellowship Canada.
Her interests include running, hockey and reading. Caz has a passion for social and environmental justice and is hoping to serve you and grow with you over the coming years.
---
Chad Cecil, Music Director & Young Adult Pastor
Chad Cecil is a pastor, musician, and songwriter who has worked in live performance, liturgical design and various church ministries for over 14 years. He is very grateful for the opportunity to serve the wonderful communities of St. Albans and St-Bernard. He has a B.A. in Worship Arts Leadership from Spring Arbor University. As an indigenous man, Chad is on a journey backwards to discover his roots, which is a journey forward.
Chad and his exquisite partner, Jennifer, immigrated from the U.S.A. in 2013 and now enjoy life in Ottawa with their little girl, Julie, and baby Margot.
He spends much of his time ensuring nobody forgets they are loved and walking alongside the discouraged; believing a little tenderness goes a long way.
---
El Posthuma, Youth & Children's Leader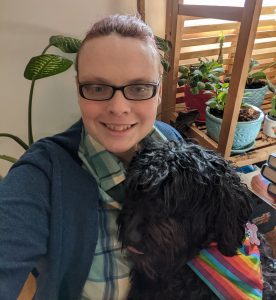 El Posthuma has lived in Ottawa their whole life. Currently they reside with their dog Sophie and live a simple but happy life. They have always had a passion for working with children and young people. As a graduate of Carleton's Child Studies program they have begun a path towards making sure children's voices are heard and incorporated into the world. They've participated and helped lead Sunday school at several Ottawa area churches and are happy to be contributing their gifts to help the children and youth of St. Alban's grow in their spiritual journey.
---
Annie MacTavish, Administration
After study at the Ontario College of Art, and many years as a graphic designer, in 2007 Annie MacTavish settled contentedly into her real job: working for churches, which she has been doing ever since.
---
Nicholas Busch, Online Church Coordinator
Nicholas (or Nick) is a pianist and music educator who is passionate about using technology to connect people. He is responsible for running and planning our service livestreams, as well as coordinating/creating some emails, web pages, graphics and videos. Nick has always been interested in video and audio technologies, which has manifested in his music career as recordings, videos and livestreamed concerts.
Nick recently completed an M.Mus degree from Western University specializing in collaborative piano performance. He lives in Sandy Hill with his wife Olivia, and their adorable puppy Nori.
---
Roxanne Bois
We're thrilled to welcome Roxanne Bois as our new Sunday morning online coordinator. Roxanne is a recent graduate of Algonquin College's Broadcasting program and an aspiring bilingual videographer/photographer from Québec. Roxanne will be running our and St Bernard's Sunday morning livestreams.
---
丽绣/Li Xiu Guo, Student Intern – Social Media
嗨/Hello! My name is 丽绣/Li Xiu and I use she/her pronouns. I am an intern at St. Albans working in social media and communications. Creating space for marginalized voices and uplifting them holds great power. I feel proud to be part of this ongoing journey of diversity and inclusion.
---
Julia Fraser, Student Intern – Music
Julia is a second year Master's student, studying Experimental Psychology at Carleton University, and is hoping to pursue a PhD in Clinical Psychology in Fall 2022. She grew up just outside of Montreal, Quebec, but has been living in Ottawa for the past 13 years. She has been attending St. Alban's Church regularly for 3 years now, and is thrilled to be apart of the Young Adult Internship Program. She hopes to give back to the St. Alban's community through her love of music. When she's not doing her school work, you can find Julia singing, playing the piano, or riding horses.
---
Volunteer Leadership
Robyn Sulkko, People's Warden
Michelle Sorensen, Rector's Warden
---