It's not just about going to church. It's about being church.
As a community, we acknowledge that each individual plays an important role in the ministry of the church. Whether we succeed or fail as a community is not up to one individual or one small group of people. It's about the power of God working through his church, the body of Christ.
We are a community of people constantly being challenged by God to find the places where our greatest passions meet the world's greatest needs, extending God's grace and mercy to all.
At St. Albans, we endeavour to engage and involve everyone, regardless of racial identity, ethnic origin, age, socioeconomic status, gender expression/identity, or sexual orientation. We value the voices and ministry (both lay and ordained) of women and non-binary people.
---
Church Staff
The Rev. Michael Garner
The Reverend Michael Garner (he/him) was ordained an Anglican Priest in the Diocese of Ottawa in 2019 after receiving his Master of Divinity degree from the University of Toronto (Wycliffe College). Before his appointment to St. Albans, Michael was the Associate Incumbent at St. Thomas the Apostle (Ottawa), and Priest-in-Charge at Church of the Resurrection (Ottawa).
Prior to entering the priesthood, Michael worked in public health and epidemiology. From 2006 to 2019, he worked as an infectious disease epidemiologist at the Public Health Agency of Canada. Michael has a Bachelor of Science degree from Queen's University and a Master of Science (Epidemiology) degree from the University of Ottawa.
Rev. Michael loves nothing more than the discovery of divine beauty in the world. He finds this most often happens for him in the domain of music. Having owned his own coffee roasting company, he is always up for conversation over a cup. He also finds much joy in facilitating gatherings over meals in which he has had a hand in preparing.
Michael lives with his wife, Rochelle (she/her), and kids (Isaac and Elise) in the west side of Ottawa. You can reach Michael at revmichael@stalbanschurch.ca.
El Posthuma, Youth & Children's Leader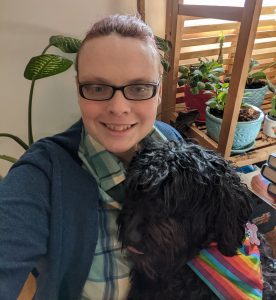 El Posthuma (they/their) has lived in Ottawa their whole life. Currently, they reside with their dog Sophie and live a simple but happy life. They have always had a passion for working with children and young people. As a graduate of Carleton's Child Studies program, they have begun a path towards making sure children's voices are heard and incorporated into the world. They've participated in and helped lead Sunday school at several Ottawa area churches and are happy to be contributing their gifts to help the children and youth of St. Alban's grow in their spiritual journey.
---
Olivia Adams, Interim Music Director

Olivia is a pianist, researcher, and music teacher. She is a Ph.D. student at the University of Ottawa, holds a MA in Music and Feminist Studies, and a B.Mus. in Piano Performance. Olivia works as a piano teacher in Ottawa as well as a collaborative pianist with other Ottawa based musicians. She has worked in church music for eight years from contemporary worship bands to sacred works with choirs. She is a researcher on gender and music in Canadian music conservatories and author of the book "Loud and Clear: A Guide to Levelled Piano Music by Women Composers". Olivia is passionate about equity in the music studio, writing curriculum, and increasing the inclusionary practices in the music and she is glad to be leading and worshiping with the St. Als community .
---
---
Volunteer Leadership
Robyn Sulkko, People's Warden
Michelle Sorensen, Rector's Warden
---