The land upon which we gather, and upon which our church building stands is the unceded traditional territory of the Algonquin Anishnaabeg people. May we dwell on this land with gratitude and respect.
A new church is to be built in the city of Ottawa. It is to be dedicated to St. Alban, the first Englishman martyred for Christ [in] A.D. 303. The estimated cost is £3,000, barely sufficient to provide a plain church with accommodation for 600 persons. It is to be a Free Church, ever open to Christian worshippers, and its ministers & services are to be wholly maintained (if possible) by weekly offerings of grateful hearts. It is to be a church in which daily prayer and praise shall ascend to the throne of grace and in which the reformed ritual of our ancient Anglican faith shall be conducted in full and strict accordance with sanctions of the Book of Common Prayer – nothing more but nothing less

Thomas Bedford-Jones, first rector
In Confederation-era Ottawa when 350 civil servants – that's all it took to run Canada in 1865 – dragged into town with disgruntled wives and families in tow, a new neighbourhood sprang up in Sandy Hill.
The new Sandy Hill was a complex community with French, Irish, English, German and Polish families living cheek by jowl. These neighbours lived on the same streets, but they did not attend the same churches. Irish Catholics built St. Joseph's, their French-speaking neighbours Sacré Coeur and German Lutherans St. Paul's. As for the British, they started collecting money almost immediately to build St. Alban's.
People began to push for a new parish to serve the influx of government workers arriving from Quebec City. In January 1866, the Canadian Churchman newspa- per argued forcefully for the construction of a new Anglican church in Sandy Hill so that "the souls of civil servants, soon to be arriving in Ottawa…might not be lost."
Ottawa in the mid-19th century had a distinctly Irish cast, unlike Montreal – which was dominated by the Scots – and Toronto – by English and American Loyal- ists. At the outset, St. Alban's had an Irish rector, the Rev. Thomas Bedford-Jones, and there were quite a few Irish families attending as well. Bedford-Jones was a dab hand at raising money. He must have been an athletic fellow, because when he got to Ottawa, he helped ring in Canada's first national celebration on July 1, 1867 by winning a sporting bet. He didn't call it a bet in front of the children at the celebratory picnic but that's what it was. "We were all in high spirits," he wrote, "and it occurred to me to challenge [Judge Armstrong] to a race of a peculiar kind." Bedford-Jones ran the race handicapped with a man on his back but with only half the distance to run, and the judge wagered $5 to the building fund if he lost. "The ground was duly measured," Bedford-Jones later recalled, "our coats were stripped off…and amid shouts and cheers we started, and I won the five dollars easily."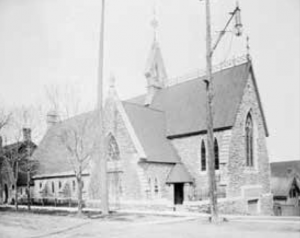 At least one famous Irish Catholic – Thomas D'Arcy McGee – contributed to the building fund. In fact, he ran into Bedford-Jones on the street in 1868 and in an act of Irish solidarity offered him everything he had in his wallet, which turned out to be $5. He was dead a month later from an assassin's bullet.
The new St. Alban's was meant to be open to rich and poor people alike, since there would be no pew rent, and all seats would be free. A notice printed up by Mr. Bedford-Jones in 1867 stated this altruistic goal very clearly.
Fine words, to be sure, but fine words butter no parsnips. This idealism ran into problems. The free will offerings at St. Alban's proved inadequate, whereas at Christ Church west of Parliament Hill, the prominent members paid for pews to keep the finances on an even keel.
– From the Sandy Hill Image
St. Albans Church
The church's namesake is Saint Alban, who was the first British Christian martyr. He was martyred for "harbouring and sheltering the oppressed and terrified"

Michael W. Newton in The Parish of St. Alban the Martyr, Ottawa 1865-1877
A member of the Anglican Church of Canada, St. Albans is downtown Ottawa's oldest surviving church building and one of its most historic. Located in the downtown neighbourhood of Sandy Hill, the church's original architecture was designed by Thomas Fuller, the architect of Canada's original Parliament. Due to the challenging geography including a steep, sandy hill, Fuller's elaborate plans were inevitably scaled back by one of his students.
The church's construction began in 1867 and was completed in 1877. It has been the church home of many of Canada's political leaders, including our first Prime Minister, Sir John A. Macdonald. (For more on Sir John A. Macdonald and his legacy, click here.)
The Original Saint
The story goes something like this:
It was in 3rd Century Roman Britain that Alban, a pagan from the town of Verulamium received a fugitive into his house. The fugitive, a Christian priest, was fleeing religious persecution at the hands of the state.
As history records it, this incident took place at a time when the Roman Emperors first published their edicts against the Christians, leading to active persecution of those who claimed faith in Jesus Christ.
Alban welcomed the priest into his house, and in time was converted and baptized by him. When Roman soldiers finally reached Alban's doors looking for their quarry, Alban exchanged clothing with the priest, allowing him to escape, while Alban was taken in his place.
Uncovering this story, the magistrate ordered that Alban receive the priest's punishment if indeed he had converted to Christianity. To this, Alban boldly responded "I worship and adore the true and living God who created all things," thus sealing his fate.
Alban was sacrificed to the Roman gods and condemned to death by beheading, making him the first British Christian martyr.