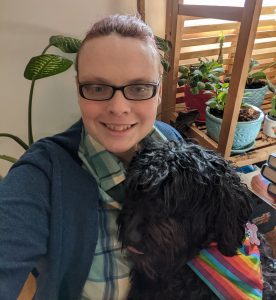 Children and Youth at St. Albans
We're thrilled to welcome El Posthuma (they/them) as our new Youth & Children's Leader. El has been worshipping with us for a few months and was called to apply when they saw our posting. We are so excited for them to meet our families and get started on sharing their experience to create meaningful community with our youngest folk!
El Posthuma has lived in Ottawa their whole life. Currently they reside with their dog Sophie and live a simple but happy life. They have always had a passion for working with children and young people. As a graduate of Carleton's Child Studies program they have begun a path towards making sure children's voices are heard and incorporated into the world. They've participated and helped lead Sunday school at several Ottawa area churches and are happy to be contributing their gifts to help the children and youth of St. Albans grow in their spiritual journey.